Amnesty International: Is sexually harassing women political protest?
18Oct21
Letter to Amnesty International UK CEO
Dear Sacha Deshmukh
This weekend I attended and spoke at a feminist conference organised by the charity FiLiA, at the Guildhall in Portsmouth. It was attended by around 1000 women and girls, including many who are survivors of sexual and domestic violence. Topics included the protection of women's sex-based rights, ending violence against women, and political participation of migrant women. As part of the event there was a planned vigil outside the Guildhall to commemorate the victims of femicide; women killed by male violence.
In advance of the conference a protest was advertised in which several individual speakers were named including myself Joanna Cherry QC MP, Professor Selina Todd and Julie Bindel as "transphobes". We have all faced discrimination and harassment because we do not share the currently fashionable belief that legal recognition of sex should be replaced by gender identity. We are concerned about the impact of sex self-ID on women's rights and child safeguarding. Because of this I lost my job. Joanna Cherry has faced threats, Selina Todd was given security by her university after facing threats, Julie Bindel has been physically attacked.
Many participants approached the event with some trepidation, and some stayed away out of fear.
On arrival we saw a group of around 30 group of people who would protest the conference throughout the weekend. Along with homemade signs they had a large set of brand new Amnesty International signs.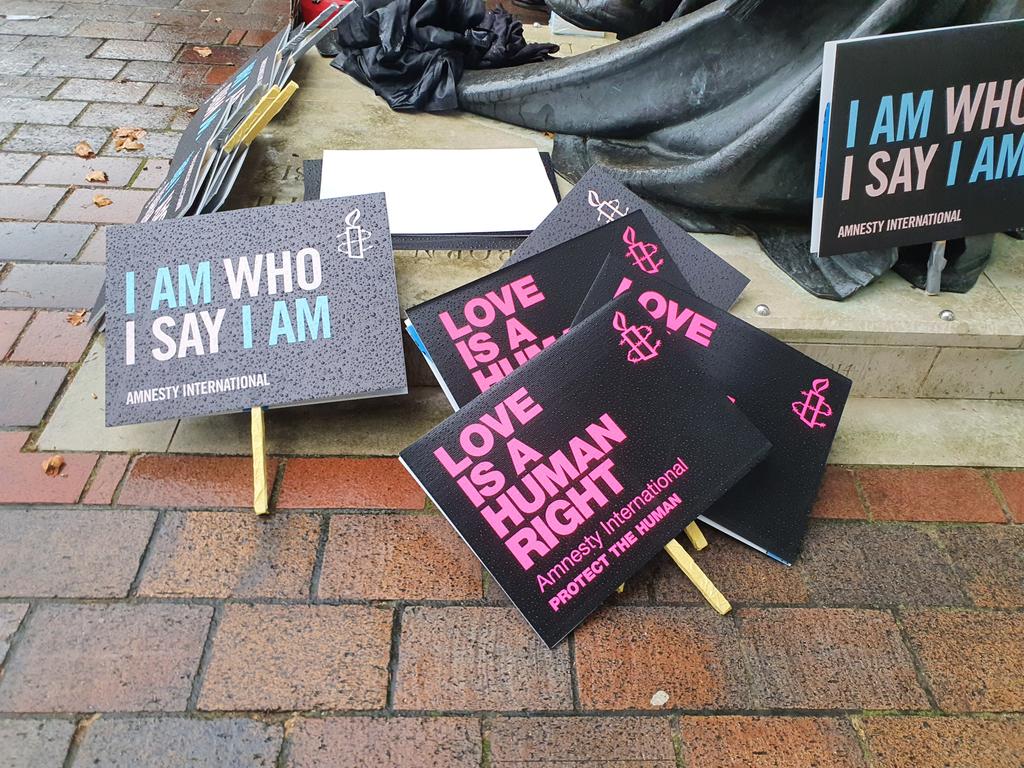 The organiser of the protest tweeted during the weekend that the protest was officially supported by Amnesty International UK.
The organiser also added this sign on the second day.
Other signs on display at the protest threatened sexual violence including "suck my dick you transphobic cunts", and "no TERFS on Pompey turf" (TERF is a term of abuse).
In what appeared to be an organised art activity protestors spent a long time covering the square outside the Portsmouth Guildhall, where the femicide vigil was due to take place with chalk writing and pictures of penises. Messages included "fuck terfs", "transphobes can suck my pink strap"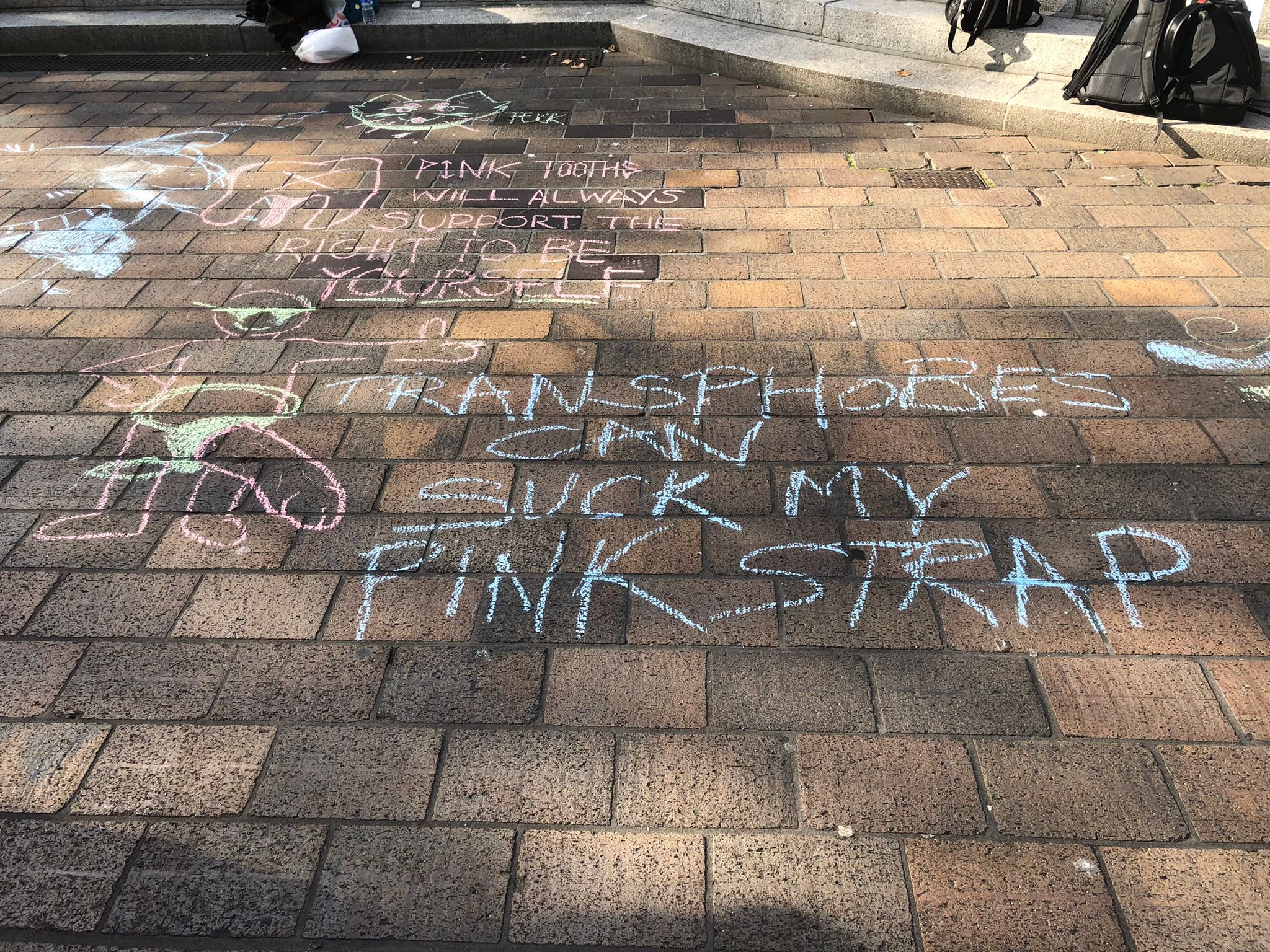 "This is my transphobe bashing stick"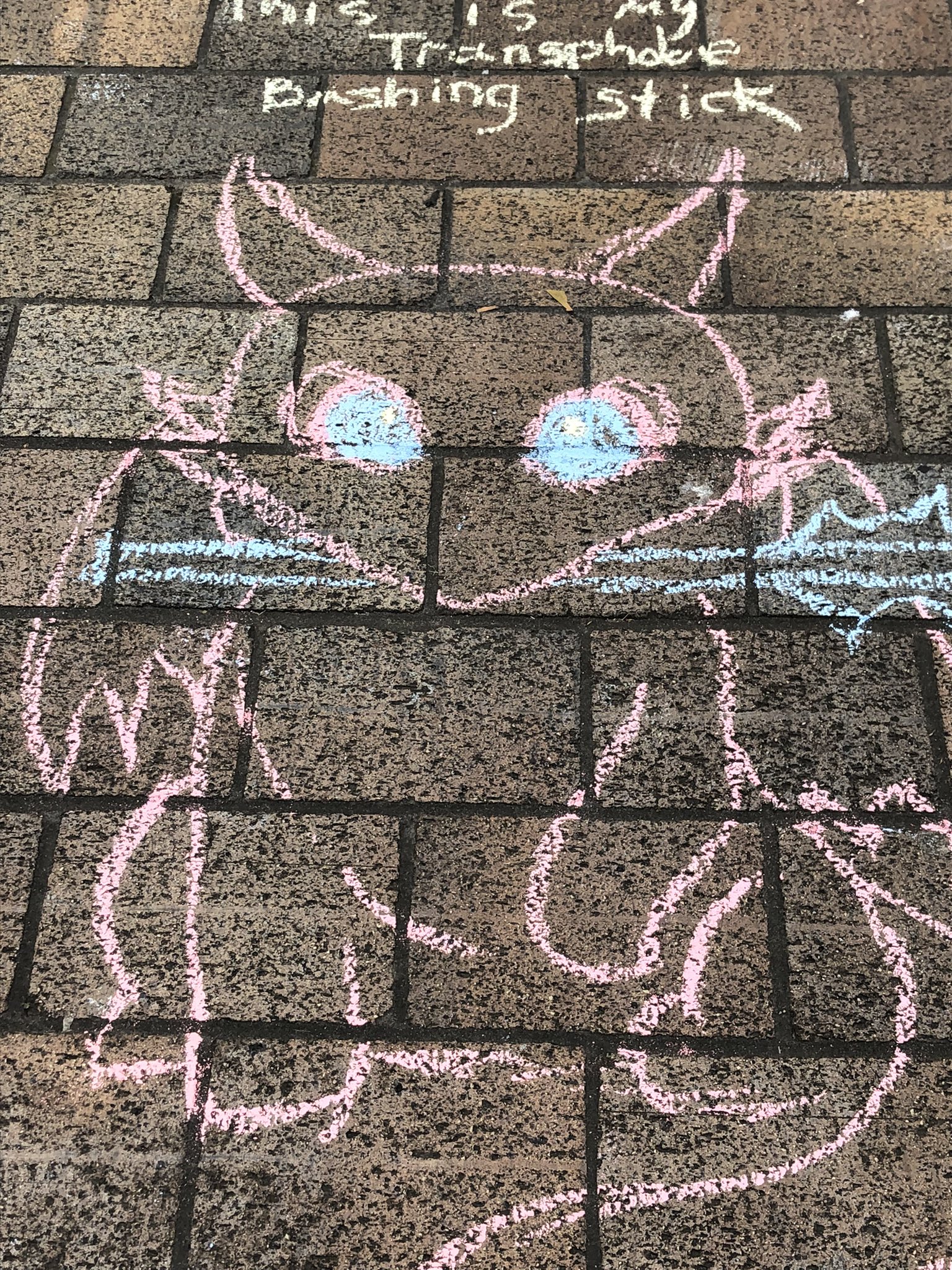 In holding the vigil that evening we were forced to stand on these obscene, threatening and abusive messages and pictures, as we remembered women who have lost their lives as victims of male violence.
Many of the protesters were young, and several looked under 18. There may also have been vulnerable adults involved. When I was talking to the protest organiser about the abusive messages a man involved in organising the protest approached us and demanded to know if I had tweeted the picture of a child (saying that the young person in the "suck my dick" photo was under 18).
It is shocking that AIUK appears to consider chalking threatening and sexually abusive slogans to be a suitable activity involving children. This is sexual harassment and extremism.
I call on you as CEO of Amnesty International UK to urgently investigate and take responsibility – was this an Amnesty International UK protest? Does Amnesty International UK support this behaviour?
AIUK's Activist code of conduct states
We will treat everyone with respect, including those who disagree with us
Activists should treat others with respect and refrain from behaviour that may be construed as bullying or harassment

Harassment, in general terms, is 'unwanted conduct affecting the dignity of men and women…It may be related to age,
sex, race, disability, religion, nationality or any personal characteristic of the individual, and may be persistent or an
isolated incident.
Amnesty International UK's safeguarding policy states that it believes that all children and young people have the right to enjoy activities of any group in a "happy, secure and safe environment".
The policy states that there will be a minimum of 1 dedicated safeguarding lead at AIUK-organised events where children may be present with responsibilities including:
All our staff, volunteers and board members conducting themselves/ourselves in a manner that respects the dignity, pride and identity of children or young people;
Ensuring that all staff, volunteers and activist are aware of this policy and the procedures through which they may raise concerns and express their concerns about the welfare of children/young people;
Ensuring all staff, volunteers, board members are subjected to safer recruitment procedures and any relevant DBS checks
Will you investigate and respond:
Was this protest an official Amnesty UK protest event involving AIUK activists?
If so, who was the safeguarding lead?
If so, were safer recruitment procedures undertaken in recruiting this person?
Does Amnesty consider calling women cunts, drawing penises, inviting someone to "suck my dick" and writing "fuck terfs" to be suitable activities for adults and children engaged in an Amnesty International protest?
Yours sincerely
Maya Forstater
cc: Charity Commission
Filed under: Uncategorized
|
14

Comments
---
---
Blogposts

More places to find me